Commercial Buildings
Commercial Buildings Service, Repair and Maintenance
If there's even one hiccup with your HVAC unit, chillers, or air handlers, you could be looking at many inconveniences: uncomfortable tenants, overheating machinery, higher energy costs, and even shutdown. Nordic keeps your HVAC refrigeration equipment running better, longer and more efficiently.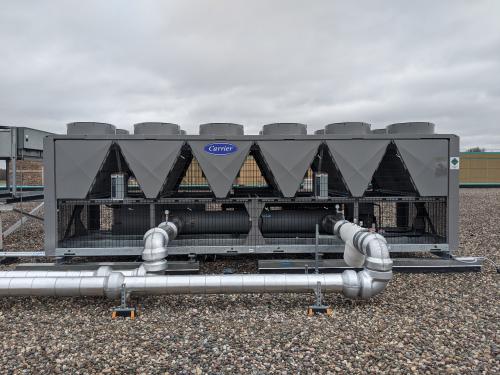 Our clients rely on us to make sure every aspect of their HVAC system is running correctly, from routine filter replacement to RTU upgrades and long-term maintenance. We give you an honest, realistic look at the state of your equipment, what needs to be repaired immediately or when to replace, and how to ensure you're getting the best value out of your system throughout its lifespan.
Keep Things Flowing with Rooftop Unit, Air Handling, and Industrial Chiller Services.
Our professional technicians take the time to learn your system inside and out to solve your current problems and prevent future problems down the line. We perform installation, maintenance, and repair services to our commercial and industrial clients from simple to complex HVAC systems.
Services Include: 
Rooftop units (RTUs)
Industrial air handlers
Chiller systems
Makeup air units
CONTACT US FOR COMMERCIAL BUILDINGS SERVICE, REPAIR & MAINTENANCE.